2023 NZIMRT Conference Highlights ARO's State-of-the-Art Radiation Technology
Mon Sept. 25th 2023
The 2023 New Zealand Institute of Medical Radiation Technology (NZIMRT) conference, held from September 15 - 17 in Queenstown, was a huge success for the team from ARO. The event united professionals, academics, and key speakers to facilitate knowledge sharing, networking and collaboration in the field.

With a strong focus on growth and resilience in the face of COVID-era challenges, this year's conference was also an opportunity to showcase leading technologies available exclusively through ARO in New Zealand. The response from delegates was overwhelmingly positive, with many expressing excitement about the benefits that technologies such as CyberKnife® can bring to our patients.

Thank you and congratulations to our team of presenters:

Shannon D'Souza (Radiation Therapist) and Kendall Scott (Senior Radiation Therapist) for their joint presentation, 'The Path to Becoming Cyberknife Robot Drivers' showcasing the special features unique to our Cyberknife treatment machine installed in 2022 and the training undertaken by the team in order to offer this high precision treatment modality.

Nancy Yang (Deputy Team Leader - Planning) for her presentation, 'The Evolution of SRT Brain Treatment with the Introduction of Cyberknife at Auckland Radiation Oncology' which compared the treatment options available for brain metastases historically to those available with the use of Cyberknife.

Jenny Knight (Senior Radiation Therapist) and Kate Chadwick (Lecturer Otago University) for their joint presentation, 'Developing a Class Solution for Stereotactic Spine Planning – Working Together for Great Results' which discussed a piece of work undertaken to improve consistency and efficiency for planning stereotactic spine treatments.

Rochelle Granshaw (Team Leader – Planning) in collaboration with Deirdre Hutton (Principal Physicist) her presentation on 'Commissioning of the EQD2 Conversion Function in RayStation V12a Treatment Planning System' which detailed the work undertaken by the ARO team to bring this sophisticated tool into clinical practise, enabling assessment of overlapping radiation courses with unsurpassed accuracy.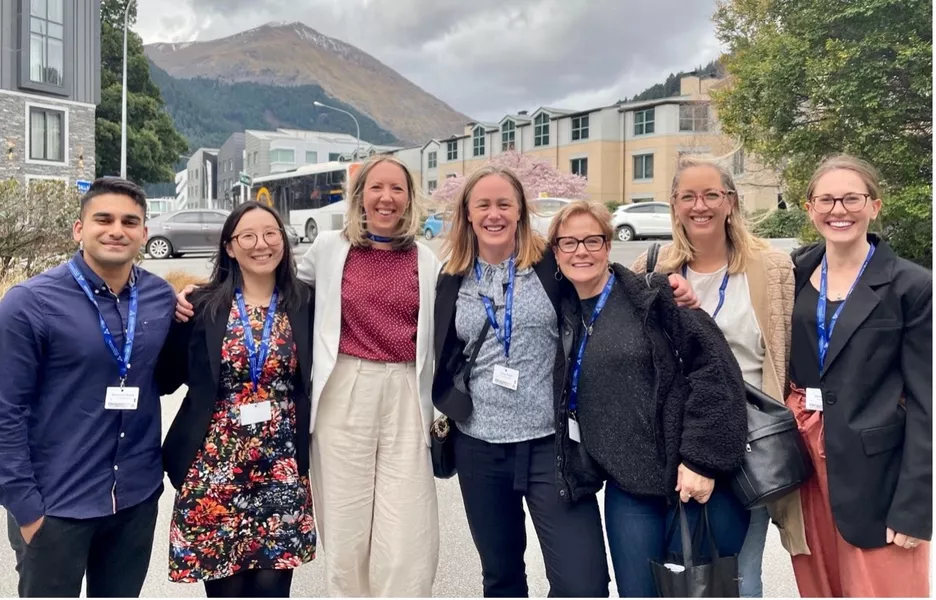 Understanding Your Treatment
The Patient Pathway
We understand you may be anxious about having radiation therapy. Read about the patient pathway and what to expect before, during and after radiation therapy treatment. AT ARO we work closely with your radiation oncologist to develop an individualised treatment plan for each patient.
Explore the patient pathway