CyberKnife Robotic Radiation Therapy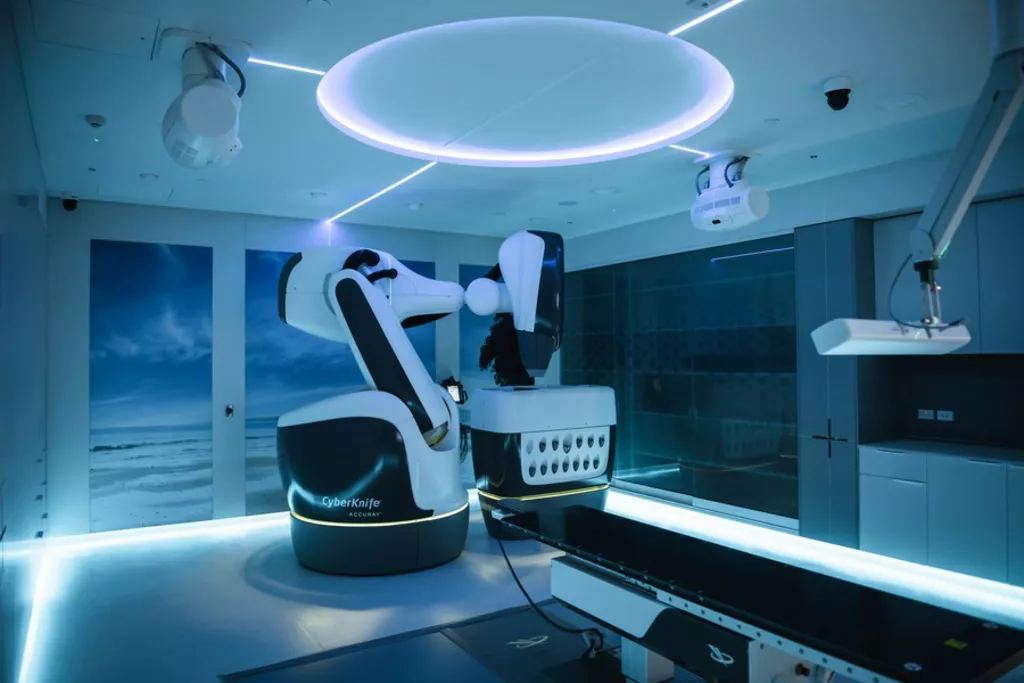 ARO has invested in a high-precision radiation oncology system called CyberKnife which will dramatically reduce the treatment time and impact of radiation therapy on patients.
In certain types of cancers, CyberKnife is more accurate than traditional radiation therapy, with potentially thousands of smaller beams delivering radiation to the tumour with sub-millimetre precision, minimising damage to surrounding healthy structures and organs.
The very precise treatments the CyberKnife can deliver are highly suited to well-defined tumours that are located close to important healthy tissue, such as you find in the brain and spine. For prostate cancer, recently published research has shown that when offering treatment over a reduced number of days (5 instead of 20) the CyberKnife produces superior outcomes when compared to standard treatment machines (linacs).
The CyberKnife will detect any movement of the patient or the tumour and will automatically move the robot to ensure that the cancer is always precisely targeted. This allows for higher doses of radiation to be delivered to the tumour each day, substantially shortening overall treatment times whilst minimising any unwanted side effects.
For example, instead of up to 20 rounds of radiation over four weeks for prostate cancer, with the CyberKnife patients will likely only need one week of five highly targeted treatments.
Auckland Radiation Oncology is the first radiation oncology provider in the country to offer this next wave of cancer treatment.
Understanding Your Treatment
The Patient Pathway
We understand you may be anxious about having radiation therapy. Read about the patient pathway and what to expect before, during and after radiation therapy treatment. AT ARO we work closely with your radiation oncologist to develop an individualised treatment plan for each patient.
Explore the patient pathway