Treatment Technology & Techniques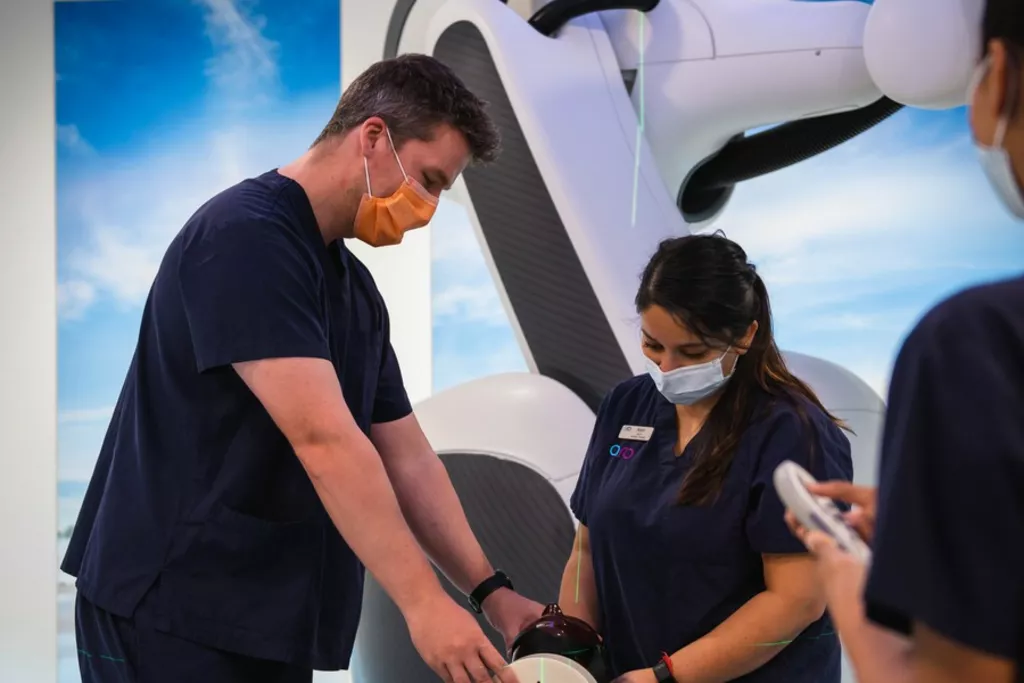 Continuous investment in technology is a key driver for ARO to deliver excellence in radiation therapy. ARO utilises some of the latest equipment in modern radiation therapy:
Philips Brilliance big bore CT scanner and access to various supplementary imaging machines including PET and MRI
RayStation Treatment Planning System
Three Elekta linear accelerators with 2D, 3D, 4D, intra-fractional and ExacTrac Dynamic imaging capabilities
Mosaiq Record & Verification system
ARO offers a comprehensive range of contemporary treatment techniques enabling them to develop treatment plans tailored to suit each individual including:
Volumetric modulated arc therapy (VMAT)
Stereotactic radiation therapy (SRT/SABR)
Traditional 3D conformal delivery (3DCRT)
Electron treatment
Intensity modulated radiation therapy (IMRT)
To ensure highly accurate patient positioning and to stabilise moving targets ARO has leading-edge equipment including:
Robotic patient positioning HexaPOD™evo 6D treatment couch
BodyFIX® immobilisation
Active Breathing Coordinator (ABC) a simple yet sophisticated assisted breathing system which helps stabilise moving targets in the chest and abdomen
ExacTrac Dynamic uses both x-ray imaging and thermal surface tracking
The ARO planning team works closely with radiation oncologists to develop individualised treatment plans for each patient.
ARO was the first treatment centre in Australasia to implement RayStation®, the most advanced treatment planning system on the market today. This highly advanced software is used to design treatment plans using any of the techniques available at ARO. RayStation also provides ARO the capability to perform deformable image registration (DIR). This is where one image is geometrically deformed onto another. DIR can be used to accurately estimate the cumulated dose of the two radiation deliveries which can be very useful when retreating patients or when a patient's radiation therapy needs replanning.
ARO's vision is to be New Zealand's leading provider of radiation oncology services and providing access to leading edge technology is a core part of this. They are proud to offer a comprehensive range of treatment techniques to suit individual patient needs.
Understanding Your Treatment
The Patient Pathway
We understand you may be anxious about having radiation therapy. Read about the patient pathway and what to expect before, during and after radiation therapy treatment. AT ARO we work closely with your radiation oncologist to develop an individualised treatment plan for each patient.
Explore the patient pathway