​Robot cancer tool a game-changer for patients
Tue Dec. 13th 2022
The launch of a high-precision radiation oncology system called CyberKnife is set to dramatically reduce the treatment time and impacts of radiation therapy on patients, heralding a new era for cancer care in New Zealand.

The CyberKnife uses radiation beams with sub-millimetre accuracy to target cancers like prostate, spine brain and liver.
Patients at Auckland Radiation Oncology (ARO) will start receiving treatment using the CyberKnife from mid-December.
ARO Clinical Director Dr Benji Benjamin says in certain types of cancers, CyberKnife is more accurate than traditional radiation therapy, with potentially thousands of smaller beams delivering radiation to the tumour with sub-millimetre precision, minimising damage to surrounding healthy structures and organs.
"Introducing CyberKnife to our suite of tools is about giving New Zealanders access to world-leading treatment options and doing what we can to minimise the impact of an already challenging time in people's lives," he says.
ARO's Chief Physicist, Dr Ian Hanson adds that during treatment, the CyberKnife will detect any movement of the patient or the tumour and will automatically move the robot to ensure that the cancer is always precisely targeted.
"This allows for higher doses of radiation to be delivered to the tumour each day, substantially shortening overall treatment times whilst minimising any unwanted side effects," explains Dr Hanson
"For example, instead of up to 20 rounds of radiation over four weeks for prostate cancer, with the Cyberknife patients will likely only need one week of five highly targeted treatment. This could be game changing for New Zealand men."
Auckland Radiation Oncology is the first radiation oncology provider in the country to offer this next wave of cancer treatment.
CyberKnife's arrival is part of a $40 million investment by the provider and its partners, Southern Cross Healthcare and MercyAscot, to advance cancer care in New Zealand.
"Enabling new technology at our clinic is a huge driver for ARO. We are committed to providing patients with options and access to the best treatment pathways possible in their fight against cancer," says Dr Benjamin.
"We are proud to lead New Zealand into a new era of radiation treatment and to be unlocking new tools for the benefit of as many patients as possible."
As well as providing treatment to private healthcare patients ARO hopes to work with Health NZ to extend the reach of CyberKnife and support all New Zealand patients who could benefit from access to this tool.
Chris Tse, Chair of Brain Tumour Support Trust New Zealand, says innovations in patient care are critical for cancer treatment in New Zealand, particularly for rare cancers like brain tumours.
"Cancer patients must make vitally important decisions about their care pathway, and we're thrilled that New Zealanders are gaining access to revolutionary technology like Cyberknife.
"We advocate for the best treatments, care and support for patients, so they can have the best possible outcomes and quality of life. With greater accuracy, Cyberknife can assist in achieving this."
CyberKnife Auckland Radiation Oncology video
ENDS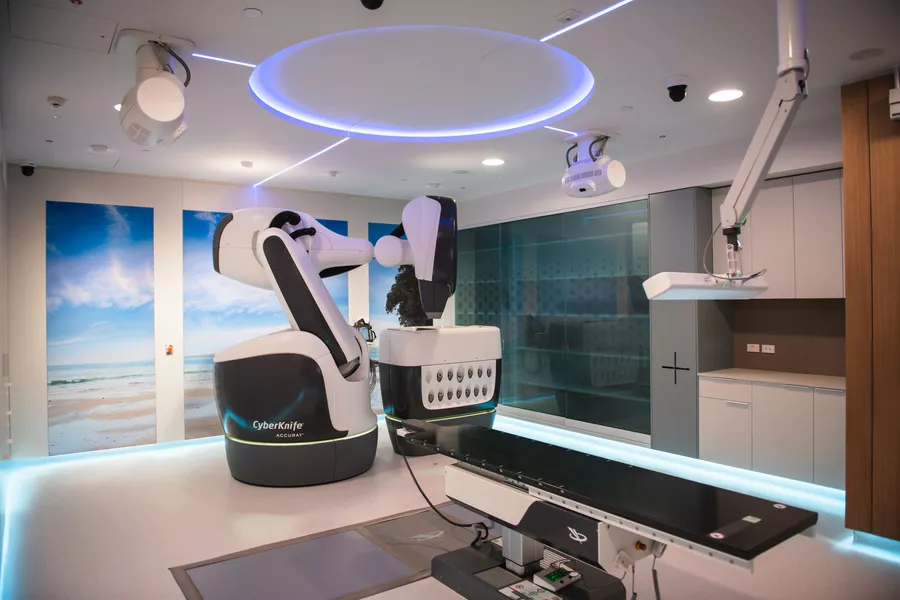 Understanding Your Treatment
The Patient Pathway
We understand you may be anxious about having radiation therapy. Read about the patient pathway and what to expect before, during and after radiation therapy treatment. AT ARO we work closely with your radiation oncologist to develop an individualised treatment plan for each patient.
Explore the patient pathway